So, the big event is close and you still have to decide on a coordinated look for your couple's costume party. It's the quintessential couples Halloween costumes problem every year, but fortunately for you we're here to help! Our costume experts have seen it all, and we've paid close attention to the world's favorite couples' looks over the years. That means we know exactly what works, and exactly which combinations should be left on the shelf. We've poured over the data, analyzed the costumes, and done the dirty work to figure out which characters go best together, which puns will be a hit, and which dynamic duos need to be at every party.
We've assembled our knowledge into this handy visual Couples Costume Guide so that you can look at some of your favorite character combinations side by side, and choose whatever is best for you. Whether you'd like to be superheroes, villains, your favorite movie characters, or maybe even a historical throwback, we've got the couples costume ideas that will let you make a supremely wise decision that will have you both standing out from the crowd this Halloween. Peruse this swell guide and choose wisely… With our help, and as long as you've got your partner by your side, we're sure that whichever couples costume idea you choose is going to be a hit!
COUPLES COSTUMES IDEAS
JOKER AND HARLEY QUINN
"WHY SO SERIOUS?"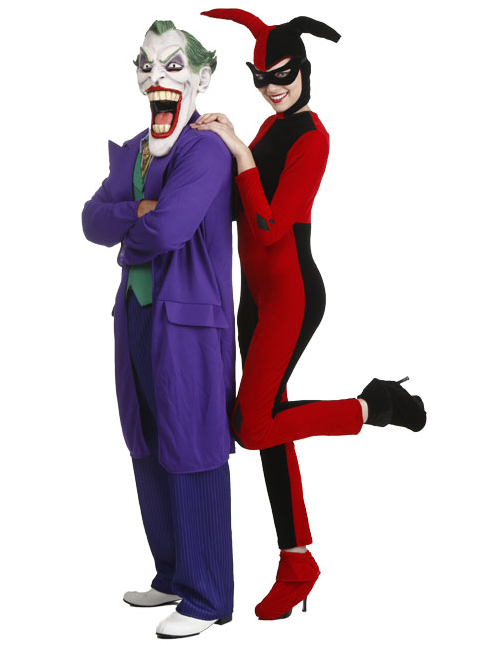 Two of Gotham's famous villains, Harley Quinn and the Joker, have a relationship based on love and, uh… insanity! If you are in the mood for causing a little trouble or making people squirm with a truly demented sense of humor, then this pair of Batman villains might be perfect couples look for you. With costume choices running the gamut from scary to sexy, we've got a Joker look and a Harley look that are sure to let you put your style stamp on this Gotham City couple. With these authentic DC Comics inspired costumes, you'll be ready to go toe to toe with the Bat… but just a little bit of advice, you might want to be prepared to get locked up in Arkham Asylum afterwards!
GRU AND MINION
"BEE-DO-BEE-DO-BEE-DO!"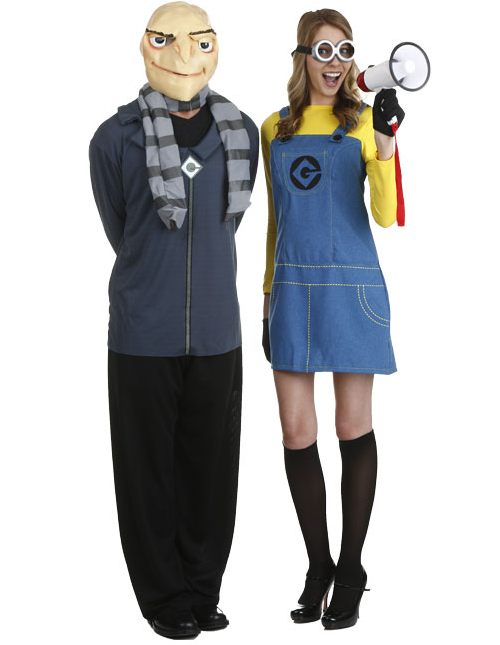 As we found out in the 2015 smash hit Minions, the little yellow guys of Despicable Me fame have served many masters over the years. But we still think they work best with Gru! Pair this Minion costume and Gru costume together, and you'll be a pair of truly despicable characters for your couples theme. In fact, you'll probably be ready to pull off a major heist at your big Halloween get-together. These officially licensed costume looks are a family friendly duo for any couple.
CAPTAIN AMERICAN AND BLACK WIDOW
"NO, YOU MOVE."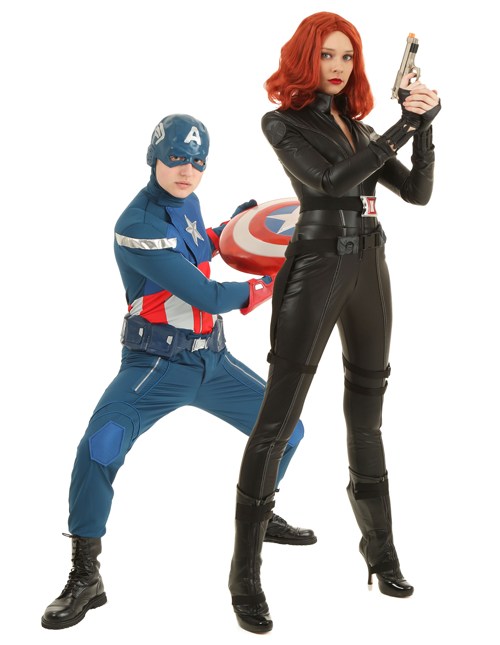 The Marvel Cinematic Universe film series is still churning out movie after movie of fast paced Avengers action. We think any pair of Avengers costumes would be a great fit for a heroic minded couple, but Captain America and the Black Widow are definitely the male/female couple that would kick the most butt! We also have female versions of the Iron Man and Captain America costumes, so any woman can be the superhero of her choosing. Coordinate your Marvel look with your costume partner, and get ready to help save the world!
SUPERMAN AND WONDER WOMAN
"NO ONE CAN RESIST THE GOLDEN LASSON."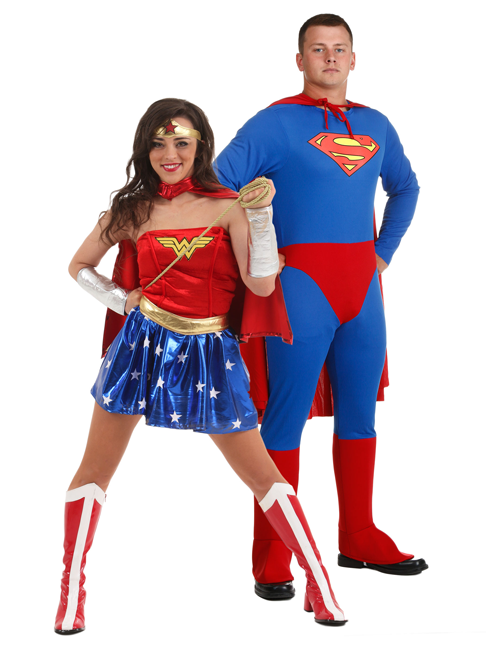 Officially, Superman and Wonder Woman are just "really good friends," but they are a fan favorite couple nevertheless. We sure think that makes it pretty hard to resist a night in the shoes of the Man of Steel and Amazing Amazonian! Hit the town as this superhuman power couple, and you won't even need the rest of Justice League to save the day. Coordinate one of our fantastic Wonder Woman looks with any of our authentic Superman costumes for a great time. (Just don't forget the golden lasso!)
RENAISSANCE THEMED
"WITH FIRE AND BLOOD, I WILL TAKE IT."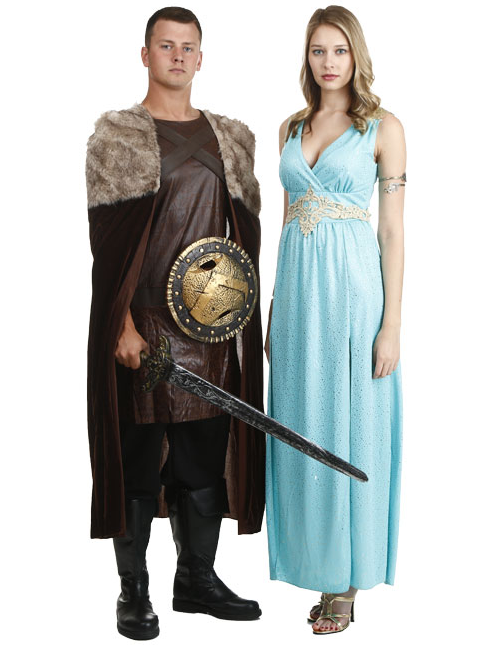 Renaissance themed costumes are at an all-time height of popularity, except maybe back when they weren't even a costume and people dressed like that every day! With hit shows like Game of Thrones and Vikings, that fact shouldn't really come as any surprise. Whether you prefer fire and ice, or the sharp blade of an axe, we're sure to have a pair of Renaissance themed costumes that will be the perfect fit for you. Pair up as a warrior and a shield maiden, a king and a princess, or even as just a pair of twisted court jesters. Head to the Ren Fest and have some mead, because whichever costume look you choose, it's sure to be just downright medieval!
JIMMY AND DOTTIE
"THERE'S NO CRYING IN BASEBALL!"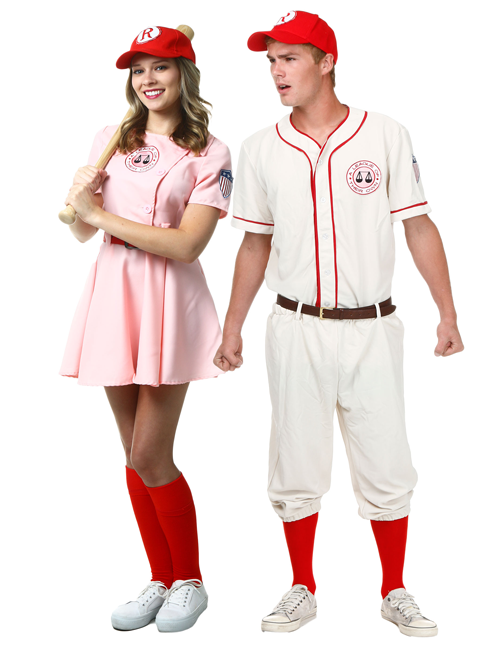 "You're gonna lose, you're gonna lose!" Not with these costumes! Our authentic League of Their Own costumes will give you the perfect combination of classic, fun, and nostalgia. You can be Dottie Hinson and Coach Jimmy Dugan for the working couple that's always butting heads, or coordinate Dottie and her sister Kit Keller for a same sex costume duo. Just accessorize your costume looks with a pair of gloves, and you'll be ready to hit the field. Just remember there's no crying in baseball, OR at Halloween parties. Go Next Page To See More.